Hello! We've collected surveys on paper, and I'm now entering them. I open the survey by Launching in Kiosk mode, and manually enter data for each. About every second or third survey, as I'm entering comments in an essay/long answer field, the survey closes without saving, and launches a new, blank survey. There are several long-answer fields, and this reset behavior appears to happen while I'm typing in any of them.
In the past when this has happened, I can usually just go into Individual Responses, find the already started entry, and simply edit/add any missing info. However, in this case there is no saved version of the started survey that I can find (even after leaving the Individual Response page and coming back, or allowing several minutes before refreshing.) As you might imagine, this is not only frustrating, but is wasting a lot of time.
I don't think I'm pushing any odd combination of keys to trigger this, as I'm just typing text comments, but am open to ideas of what may be happening. Please advise. Thank you!
Education Intern12273 asked
Best answer
Hi There!
Kiosk mode is designed to restart if it appears the respondent has walked away. This is timed based on time on page. So if you have left the timeout at 1 minute, when you're typing if it takes you longer than that minute it will restart the survey. Even if you are currently, actively, typing. That 1 minute timer resets again when the next page is hit.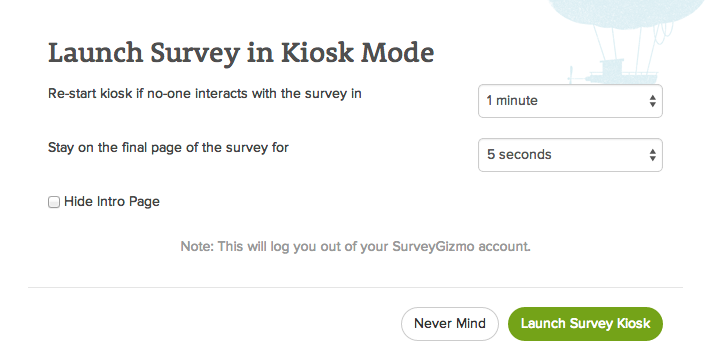 When launching the link I would recommend changing the "Stay on the final page of the survey" to a longer time, or even indefinitely.  
-SG Pharlain
pharlain ross answered