Hi all
We're trying to create a survey. In one question, the respondents select the sports they are participating in.
In the next question, they rate the sports based on criteria (see image 1).
What I'm trying to do is that they can rate each sport in each column. However, it's showing up as:
Any suggestions?
Evaluation Team answered
Nevermind! I deviated from your suggestion a little and have done something I think will serve our needs.
Thank you!
Evaluation Team answered
Thanks IS. I might use that as a fall back if nobody can help us with how we want it set out.
Evaluation Team answered
I don't think you can do exactly what you want as it is shown. The custom table question can't show or hide columns based on logic and even if you could pipe in the selected question options correctly instead of the entire question.
You could try doing this with a checkbox grid instead: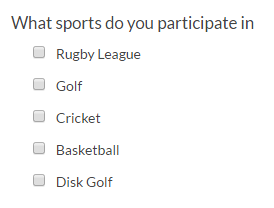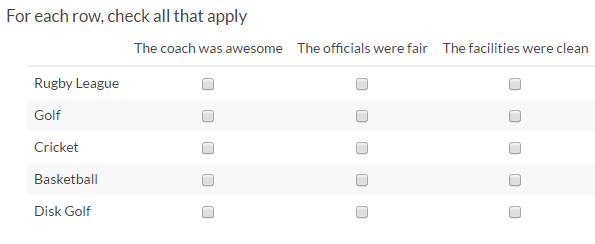 For each sport, click  on the edit icon for its row header and create a logic rule as shown below: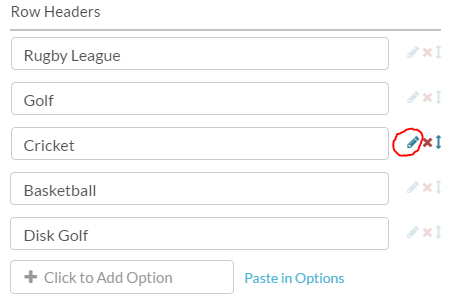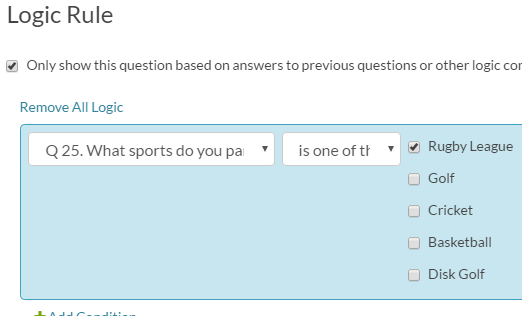 The entire 2nd question will be hidden until the first sport is checked in the first question. When that first sport is chosen, the 2nd question appears with only the row for the checked sport. As each new sport is chosen in the first question, the appropriate row in the 2nd question appears.
IS commented